Leaders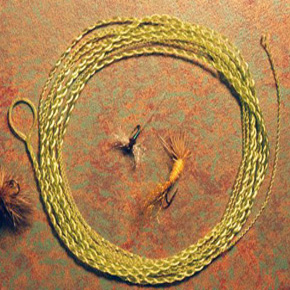 Why would you mess with your valuable time on the water by using cheaply made tippets and leaders that will lose fish? (Especially when the price difference between cheap and the very best is only 1-2 bucks!) Put your faith in the tippets and leaders the pros use - VARIVAS - simply the best tippet and leader material available. Four different leader and tippet styles - from 20# down to 8X!
We are also very proud to offer Blue Sky Furled Leaders! There's nothing like them anywhere. A 250 year old tradition blending durability, balance and elegence. Every cast extends to its full length even in formidable winds! Cast with unbelievable control and finesse - 4 different sizes for everything from size 24 midges to big bass bugs. All you have to do is attach your desired length tippet and you are ready to experience the finest casting of your life.
And for Pike, Musky, Barracuda, Kingfish, Wahoo and other toothy fish we now offer the Blue Sky Furled Leader with a kink resistant, medical grade flexible Titanium bite tippet - high strength, durable and corrosion resistant.
---

Regular Retail Price:
$15.99
HOT BUY!
$13.30 / ea!

Regular Retail Price:
$16.99
HOT BUY!
$14.25 / ea!